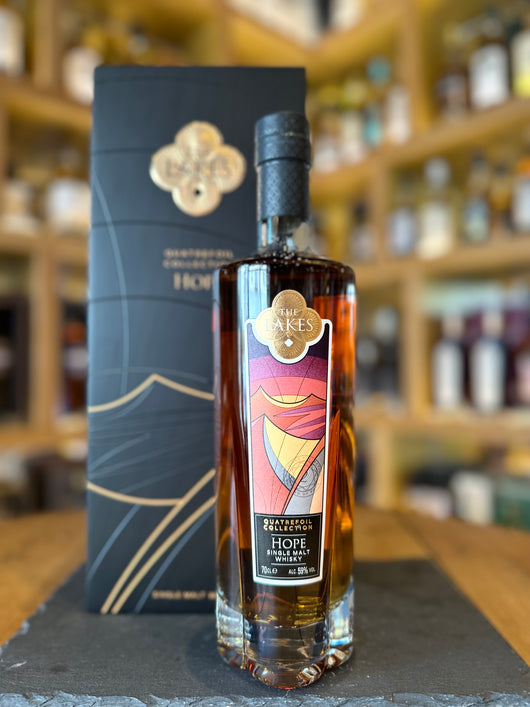 The Lakes - Hope (Quatrefoil Collection) (70cl, 59%)
Regular price £299.00 Sale
Introducing The Lakes - Hope (Quatrefoil Collection)~
Experience the epitome of craftsmanship and flavor exploration with The Lakes - Hope (Quatrefoil Collection). This exceptional collection offers a truly unique opportunity to delve into the individual flavors derived from specific oak species and sherry varieties.
Each bottle within the Quatrefoil Collection is a testament to The Lakes' commitment to excellence. Highlighting the distinct flavors, when blended together, they beautifully reflect the house style of The Lakes Single Malt. Immerse yourself in a journey that showcases their sherry-led maturation philosophy and unravels the wide flavor spectrum that American and Spanish oak can offer.
Crafted by the visionary Dhavall, this exclusive collection is the result of meticulous selection of the finest and rarest casks available. Limited to only 1,000 collections worldwide, each bottle is bottled at a bold 55% ABV or above, ensuring a truly immersive tasting experience. Furthermore, the non-chill filtered process guarantees a richer mouthfeel and full depth of flavor, allowing you to savor every nuance.
The Quatrefoil Collection is a celebration of the natural color variation that arises from the use of American and Spanish oak. With no colorants added, the collection embodies the authentic hues that nature intended, further enhancing the allure and authenticity of this exceptional whisky.